We do not intend to stop even for a moment. In the queue and new, fresh ideas are waiting for the Implementation. We aim high. Priority objective is to Promote the aviation sector esspecialy Air Shop, making a new business contact, raising another source of information. All Of That Samoloty.pl for making the best and the more interesting the portal in general aviation industry.
Welcome in our news world! We would like to invite you to get to konw a fresh source of interesting artcles. We never stop in trying! Always ready to provide you the best informatoins!
The first of two Universal Avionics equipped Fairchild C-26 Metroliner aircraft has been delivered to customer.. more
FAI Asset Management GmbH has confirmed that it will be breaking ground for its third hangar at Albrecht Dürer Airport in Nuremberg in June of this year..... more
In 2015, Lithuanian Government announced seeking a concession partner to manage and develop three state-run airports in Vilnius, Kaunas and Palanga..... more
328 Support Services GmbH (328) is celebrating 10 years as Type Certificate holder of the successful Dornier 328 (jet and turboprop series). The company is marking the occasion with an expansion of..... more
Machining of the first Beluga 'XL' fuselage frame '40' for the initial "non-flyable aircraft" (NFA) has been achieved at Airbus' plant in Nantes.The manufacture of this part paves..... more
IPrague based ABS Jets has received two NBAA safety awards. This is quite a unique achievement as one..... more
London Oxford Airport is offering arriving business jet passengers and crew complimentary shuttle services to and from the new Oxford Parkway Station, which formally opened today...... more


The historic dig near Saddlescombe Farm in West Sussex was carried out by a team of archaeologists and historians supported by Polish and British veterans of foreign missions in Iraq and Afghanistan. ...more
At the International Paris Airshow, representatives from the Sichuan Provincial Government and Deyang Municipal People's Government of China revealed plans to host a new biennial international airshow in the province. ...more
Marshall Aviation Services, part of the Marshall Aerospace and Defence Group, this week welcomed the HondaJet, the world's most advanced light jet, to its Cambridge International Airport HQ. The aircraft made its UK debut fresh from its first public appearance in Europe, where it took pride of place last week on the static display at EBACE in Geneva, the business aviation fraternity's second largest industry show. ...more
A Singapore Airlines Airbus A330-300 aircraft suffered an in-flight power loss in both engines on 23 May, but the crew restored normal operations and the aircraft landed without incident. ...more
The European Festival of Aviation (EFA) Prague is the unique opportunity in 2015 to promote offerings in all main sectors of the Aviation industry, including commercial, aero medical, rescue, homeland security and military. This three-day trade and end user event will be the catalyst that not only enables networking opportunities but more importantly a setting to discuss new business, inform and take sales leads for the future. ...more
Air BP, the international aviation fuel products and service supplier returns to the European Business Aviation Convention and Exhibition (EBACE) this week (Stand U055) having bolstered its French network with the addition of a new location at Golfe de Saint-Tropez International Airport (LTT\LFTZ). ...more
Cessna Aircraft Company, a subsidiary of Textron Aviation Inc., a Textron Inc. (NYSE:TXT) company, today announced the Citation Latitude will enter the market with final range and runway performance specifications that exceed previous projections. ...more
UK budget carrier EasyJet has become the latest airline to commit to a higher-density Airbus A320 layout with the decision to fit 186 seats in the type. Airbus has been developing a revised cabin interior allowing an increase in accommodation from the previous limit of 180. ...more
Amazon has partnered with JetBlue to allow Amazon Prime members to stream movies and TV episodes in flight, including exclusive Amazon Original Series, on the airline's free in-flight Wi-Fi service Fly-Fi. ...more
Rockwell Collins has been selected by Airbus to provide the Electronic Flight Bag (EFB) interface and Communication Unit (EICU) for the Airbus A320 and A330 aircraft families. ...more
NASA researchers, working in concert with the Air Force Research Laboratory (AFRL) and FlexSys, have successfully completed initial flight tests of a new morphing wing technology for aircraft. ...more
The 2015 general session featuring the joint meetings of the Airlines Executive Engineering Committee and Avionics Maintenance Conference (AEEC | AMC) began Monday, April 27, with an opening session and several symposiums focusing on different aspects of aircraft connectivity and the ongoing NextGen and Single European Sky (SES) airspace modernization projects. ...more
In the land of the autobahn, drivability is a passion—even if the car is designed to fly. And the need for good road performance has driven the design of Germany's Carplane flying car, the near-complete prototype of which was unveiled at the Aero Friedrichshafen general-aviation show on April 15-18. ...more
When the A380 performed its maiden flight 10 years ago this month, it was clear that Airbus was once again shaping the future of air transportation. ...more
United Airlines has converted 10 firm orders for the Boeing 787 to the 777-300ER. ...more
NASA researchers have wrapped up a series of flight experiments with Boeing's ecoDemonstrator 757 airplane to assess the effect of tiny devices called sweeping jet actuators. ...more
Unmanned Aerial Systems (UAS) manufacturer AirRobot recently entered into an exclusive distribution agreement with Northrop Grumman's Tennessee-based subsidiary, Remotec, for the company's line of small UAS for law enforcement and first responders. ...more
Airbus has rolled out the first CFM Leap-1A powered A320neo at its Toulouse facility in France, and is expected to begin ground tests this week in advance of flight tests which are targeted to begin before the Paris Air Show in June 2015. ...more
AgustaWestland has launched the second edition of its "Flydeas for the City" initiative, within the framework of the 'Energy for Creativity' Exhibition-Event that was officially opened today by INTERNI magazine in Milan. The initiative invites design studios to compete for the chance to develop an all new, advanced corporate cabin interior for the AW609 TiltRotor. ...more
Bombardier has announced another top-level management shakeup, saying today that Mike Arcamone, president of Bombardier Commercial Aircraft, is leaving the company and that senior vice president and chief financial officer Pierre Alary will retire. ...more
The Boeing 737-800 was launched in September 1994, earned FAA certification in March 1998 and first flew with Germany's Hapag-Lloyd that same year. ...more
India has been granted a Category 1 rating under the FAA's International Aviation Safety Assessment (IASA) program, indicating that the country's civil aviation authority is now in compliance with International Civil Aviation Organization (ICAO) safety standards. U.S. Transportation Secretary Anthony Foxx announced the improved safety rating Wednesday during a meeting with India's Minister of Civil Aviation Ashok Gajapathi Raju. ...more
When Qatar Airways' chief executive, Akbar Al Baker, took delivery of his company's first Airbus A350-900 in Toulouse on 22 December 2014, he did so with a broad smile, happy with the latest addition to the fleet. ...more
The F-35 Joint Strike Fighter has been flown in air-to-air combat maneuvers against F-16s for the first time and, based on the results of these and earlier flight-envelope evaluations, test pilots say the aircraft can be cleared for greater agility as a growth option. ...more
Although Cathay Pacific's cargo division has just one more freighter due for delivery—and is selling more of its older cargo aircraft—it still expects to be able to boost capacity significantly. ...more
An Air Canada Airbus A320-200, registration C-FTJP performing flight AC-624 (dep Mar 28th) from Toronto,ON to Halifax,NS (Canada) with 133 passengers and 5 crew, was on approach to Halifax's runway 05 at about 00:40L (03:40Z) when the aircraft touched down about 1100feet/335 meters short of and below the runway threshold, clipped a powerline about 250 meters short of the runway, impacted the embankment just below the runway level and came to a stop past the threshold of the runway near taxiway B about 1800 feet/550 meters down the runway. ...more
German prosecutors have disclosed that the first officer of the crashed Germanwings Airbus A320 had previously been treated for suicidal tendencies. ...more
It took criminal investigators less than 48 hr. to determine the likely cause of the Germanwings Flight 9525 disaster. They say they are certain the first officer "deliberately crashed" the Airbus A320 into the side of a mountain, an event that will raise questions about psychological oversight of pilots and cockpit access. ...more
Germanwings Flight 4U 9525 was "deliberately crashed" by the aircraft's first officer, the Marseille-based prosecutor leading the criminal probe into the March 24 occurrence in the French Alps says. ...more
A Germanwings Airbus A320-200, registration D-AIPX performing flight 4U-9525 from Barcelona,SP (Spain) to Dusseldorf (Germany) with 144 passengers and 6 crew, was enroute at FL380 about 30nm southeast of Marseille (France) when the aircraft initiated a rapid descent. Radar contact with the aircraft was lost at about 6800 feet at approx. 10:45L (09:45Z) about 12nm southwest of Barcelonnette (France), 75nm northeast of Marseille. The aircraft was found at approximate position N44.2979 E6.4670, all on board perished. ...more
Investigators have begun the painstaking process of trying to determine why an Airbus A320 carrying 144 passengers and six crew members on a scheduled flight from Barcelona to Dusseldorf suddenly started descending over the south of France before crashing in the French Alps. ...more
The first Boeing KC-46A configured as an aerial refueling tanker will likely miss its planned April first flight because of issues with integration of military-specific components and systems, service officials say. ...more
The FAA has issued a Supplemental Type Certificate (STC) for the Clay Lacy Aviation FANS 1/A+ solution for Gulfstream GIV and GIVSP business jets. ...more
In-Flight Connectivity (IFC) providers are exploring how they can expand and improve the value propositions for the cabin and cockpit connectivity that they're providing for airlines and operators today. How can they do that? It depends on who you ask, as a panel discussion at SATELLITE 2015 on IFC featuring the biggest players in the game found many different strategies toward expanding and improving within the aircraft connectivity options. ...more


Low-cost airline plans $15 flight to Europe
Europe's biggest budget carrier Ryanair (RYAOF) is planning to launch cheap transatlantic flights by 2020. ...more
World Finance: Europe's dead airports: a big waste of taxpayers' money
Over the past 15 years, €666m has gone from taxpayers' pockets for the construction and expansion of various airports across the EU – many of which still lie empty and unused. ...more
First Italian-assembled F-35 rolls off the line
The first Lockheed Martin F-35 Lightning II built outside the USA rolled off the final assembly and check out (FACO) line at Cameri air base in Italy on 12 March. ...more
Air Lease Corp founder Steven Udvar-Hazy flashes a squinty grin and says he cannot reveal Boeing's design secrets for the still-unlaunched clean-sheet aircraft concept to follow the 777X family into service after 2022. ...more
Pratt & Whitney will increase the list prices of its PW1000G geared-turbofan family later this year to reflect what it believes will be increased value from better-than-anticipated performance. ...more
Three French sports stars were among 10 people killed when two helicopters collided in Argentina on Monday evening, authorities said. ...more
Passengers all over the world are eager for airlines to make their Personal Electronic Devices (PED) even more personal while traversing the skies, according to Sita's 2015 air transport industry insight report. The yearly report, entitled "The Future is Personal," examines whether passenger expectations, airport infrastructure and airline business models align. ...more
A Turkish Airlines Airbus A330-300 aircraft has skidded off the runway at Kathmandu Tribhuvan International airport, causing its nose gear to collapse. ...more
In the week that Royal Australian Air Force officials hailed the performance of the service's Boeing 737-based Wedgetail aircraft over Iraq, and as the UK draws closer to announcing a successor to its Westland Sea King 7 capability, our Top 10 looks at some of the unusual and rare types delivering the airborne early warning and control mission around the globe. Our listing is derived from data on in-service and on-order aircraft contained within Flightglobal's Ascend Fleets andMiliCASdatabases. ...more
Bombardier has launched the flight test campaign of the stretched, 135-seat CS300 with a 4h57min sortie from the company's final assembly centre in Mirabel, Canada. ...more
Airbus is to hike the monthly production rate for its A320 family to 50 from the first quarter of 2017. It will also cut the rate of the A330, in the first quarter of next year, from nine to just six aircraft. ...more
The Royal Thai Army has acquired six of Airbus Helicopters' light-utility EC145 T2 airframe, the newest and most powerful model in the EC145 light twin-engine helicopter family. The Army signed for six EC145 T2s with a VIP installation, under the Light Utility Helicopter Type II requirement, to be deployed principally on official passenger transport duties, with deliveries scheduled to begin in 2016. ...more
The commercial aerospace industry is expected to enjoy close to an 8 percent growth rate this year, according to Deloitte's recently released "2015 Global Aerospace and Defense Outlook" report. Revenue growth in the commercial sector will be driven by record airframe production rates, an accelerated cycle for airlines and operators replacing obsolete aircraft, growing international passenger demand and millions of new people entering the middle class in emerging countries, says Tom Captain, vice chairman and U.S. aerospace and defense leader for Deloitte. ...more
The Federal Aviation Administration released Sunday its long-awaited proposal for governing small commercial drones, setting a plan for remote-controlled aircraft to share the skies with passenger planes. ...more
Delta Air Lines has issued an apology for a comment made by chief executive Richard Anderson during a CNN interview focused on US airlines' clash with Gulf rivals over subsidies and open skies. ...more
Whatever else Boeing may be discussing with potential customers at this year's International Society of Transport Aircraft Trading (Istat) meeting regarding options for replacing the 757, we now at least know it will not be talking about bringing the original aircraft back to life with new engines. ...more
The NextGen GA Fund has launched "Jumpstart GA 2020," an initiative designed to accelerate General Aviation (GA) operational equipage of rule-compliant Automatic Dependent Surveillance Broadcast Out (ADS-B Out) avionics. Under the program, the GA Fund will purchase 10,000 L-3 Lynx NGT-1000 units, which provides an FAA-approved 978 MHz Universal Access Transceiver (UAT). ...more
Anyone wanting to fly a small unmanned aircraft commercially in U.S. airspace will have to obtain an special operator certificate and pass a test on the "rules of the air", but the aircraft themselves will not require airworthiness approval, according to a proposed rule finally released Feb.15 by the FAA. ...more
With the 6 February announcement that Polish regional carrier EuroLOT would stop flying from the beginning of April, airline casualties are back in the news. Indeed, the past several years have been an arguably turbulent time for flying, with the financial crisis and high fuel prices wreaking some high-profile damage, including the collapse into bankruptcy protection of Japan Airlines in 2009 and American Airlines in 2011. But while 44 airlines ceased or suspended operations in 2014, there were relatively few high-profile examples over the past 12 months or so – although there have been many interesting cases, as revealed by this trawl through the Flightglobal archive. ...more
After months of seeing Dassault Aviation being browbeaten in the Indian press, French arms procurement agency DGA defended its contractor, asserting that a 2012 agreement to provide India with Rafale fighter jets never committed the company to guarantee aircraft manufactured in India at state-owned Hindustan Aeronautics Ltd. (HAL). However, a recent senior adviser to HAL's management tells Aviation Week that guaranteeing HAL's work is not the issue, but that the French are being "rigid" and refusing to stand behind the integrity of the design. ... more
Full-scale development of a Russo-Chinese widebody may begin next year. ...more
This type of icing does not appear on radar due to its low reflectivity. Neither airplane ice detectors nor visual indications reliably indicate the presence of ice crystal icing conditions. It is often undetected by the flight crew and has caused many high-altitude engine failures. ...more
American Airlines has exercised options for 24 Bombardier CRJ900 NextGen aircraft with deliveries beginning this November. ...more
As the company enters into 2015, Northrop Grumman's aerospace sector is seeing exciting growth overseas, and is looking to gain a better footing for domestic growth. During the recent fourth quarter 2014 conference call, Northrop Grumman CEO Wes Bush noted that 2014 international sales increased 20 percent across all sectors, with a particular rise in aerospace. The company expects international revenue to continue ballooning through the coming year resulting from increased demand for unmanned and manned aircraft. ...more
The attitude and flight profile of theTransAsia ATR 72 that crashed after take-off from Taipei's Sung Shan airport - shown in high quality video of the aircraft's last few seconds - indicates it was fully stalled. ...more
At least 12 people have died after a TransAsia Airways plane clipped a bridge and crashed into a river near the Taiwanese capital, Taipei. ...more
Cessna has rolled out its first production Citation Latitude at the company's Wichita, Kan., manufacturing facility, three years after being announced to the market. The Citation Latitude certification program, which includes four flying aircraft, has accumulated 500 flights and 1,200 hours to date. ...more
North American transportation safety officials are recommending avionics upgrades and improved capabilities for new and existing aircraft that fly oceanic routes to improve the ability of operators and air traffic controllers to track them. The National Transportation Safety Board's (NTSB) latest set of recommendations follow a year that saw two major incidents involving the disappearance of commercial airliners from radar coverage: the March 2014 Malaysia Airlines flight MH370 and a similar occurrence involving AirAsia Airbus jet flight QZ8501 in December 2014. ...more
Bloomberg reports that pilots had shut down power to a flight protection system after trying to deal with a string of alerts from it. ... more
The U.S. Air Force has chosen Boeing as the sole-source provider and prime integrator for the multibillion dollar program to develop the next U.S. presidential transport, based on the company's 747-8. ...more
The competition to build South Korea's proposed KF-X indigenous fighter will probably come down to price, putting Korean Airlines (KAL) at an advantage, according to a government official. ...more
American Airlines officially welcomed its first Boeing 787 Dreamliner last week, making it the second airline in the United States to receive the next-generation aircraft. American took delivery of the airplane, a 787-8, on Thursday Jan. 22 at the Boeing factory in Everett, Wash. The new plane touched down in Dallas/Fort Worth airport, American's headquarters, the following evening. ...more
No matter how you gauge the success of Boeing's 777, whether in terms of sales, profitability, safety, versatility, longevity or derivatives, few can argue the remarkable impact the twinjet has made on the industry since entering service almost 20 years ago. ...more
Jeppesen has signed a multi-year contract with leading Saudi Arabian private jet operator NasJet to provide international trip planning services. The services aim to increase the Middle East company's operational efficiency and streamline operations in the global private jet marketplace. ...more
It began life as a hydrogen-fueled, high-altitude unmanned aircraft but evolved into a diesel-powered platform designed to fly at medium altitude for five days and promising dramatically reduced operating costs compared with today's Predator-class UAVs. ...more
Nextant Aerospace's new G90XT turboprop aircraft has successfully completed its first test flight. The G90XT is a remanufactured King Air C90A that features the new H75 engine by GE. This is the second of Nextant's remanufactured business jets — the first is the Nextant 400XTi. ...more
On January 19th, 2014 Sukhoi Superjet 100 aircraft joined the fleet of the Russian airline - Red Wings. The airliner with a tail number RA-89021 was ferried from the Delivery Center of Sukhoi Civil Aircraft Company to Domodedovo International Airport – home base of the airline. ...more
Bombardier has announced it will immediately halt work on its Learjet 85 aircraft program due to what they site is a lack of market demand for the midsize business jet. In suspending the program, Bombardier will be forced to lay off 1,000 employees, effective immediately, from facilities in Wichita, Kan. and Queretaro, Mexico — a component manufacturing facility opened in 2010 for production related to the Learjet 85 program. ...more
Aeroflot and Sukhoi Civil Aircraft Company (SCAC) have signed an agreement on delivery of 20 latest Russian-built aircraft Sukhoi Superjet 100 (SSJ100). The Letter of Intent was signed today by the Director General of Aeroflot Vitaliy Savelyev and SCAC Head of the Board of Directors Mikhail Pogosyan. ...more
Airbus chief executive Fabrice Bregier has identified the airframer's three new programmes as its priorities for 2015. ...more
Airbus has formally launched a long range version of the A321 with a 97-ton maximum take-off weight (MTOW). Air Lease Corporation (ALC) is the first to sign a memorandum of understanding (MOU) for 30 of the type, making it the aircraft's launch customer. ...more
Following an agreement signed on Dec. 29, AgustaWestland will provide 160 AW189 civil helicopters to the oil company Rosneft by 2025. The supply will be provided mainly through HeliVert, a joint venture between Finmeccanica-AgustaWestland and Russian Helicopters (a subsidiary of the corporation Rostec). ...more
Researchers at the German Aerospace Center Deutsches Zentrum für Luft- und Raumfahrt (DLR), in collaboration with Airbus, have successfully premiered the use of lasers to visualize the airflow over the wing of a passenger aircraft in flight. ...more
China's first domestically produced regional airliner, ARJ21-700, has achieved certification from the country's aviation authority after more than a decade of development. The 90-seat medium range regional jet was designed to compete with aircraft from manufacturers such as Embraer and Bombardier. However, it is highly unlikely that the ARJ21 will be competitive with either Bombardier's CRJ family of regional jets or Embraer's E-jet series, according to Richard Aboulafia, vice president of analysis at the Teal Group. ...more
ESLT ("Elbit Systems") announced that it was awarded an approximately $90 million contract from the Israeli Ministry of Defense (IMOD) for the maintenance of the Israeli Air Force's (IAF) F-16 array's avionics systems. The project, to be performed over 11 years, will include the establishment of a new and cutting edge national maintenance center for the IAF's squadrons and bases. ...more
Air Asia has been a seemingly never-ending success story since Tony Fernandes took over the airline in 2001. But not every undertaking the ambitious CEO and his Air Asia Group have undertaken has been an unalloyed success. And now, the fast-growing airline conglomerate is facing its most serious crisis in the apparent crash of AirAsia Indonesia Flight 8501. ...more
The first of four Boeing KC-46A engineering, manufacturing and development (EMD) aircraft made its maiden flight from Paine Field, Everett, on Dec 28, starting the clock ticking towards the planned delivery of the first 18 new 767-based tankers to the U.S. Air Force by August 2017. ...more
Qatar Airways has formally received its first Airbus A350-900, the first example of the new jet to be handed to a customer. ...more
The first A350-900 for Finnair is taking shape in the Roger Béteille Final Assembly Line (FAL) in Toulouse, France. Finnair will be the first European airline to fly the A350 XWB and the third in the world. ...more
Now that cold weather is here, I get asked quite often, "How long should I warm up my engine before I drive/fly off?"
As always, there is no simple answer. ...more
The European Aviation Safety Agency (EASA) has granted certification to Embraer's Legacy 500 executive jet during a ceremony at its headquarters, in Cologne, Germany. As a result of this approval, the aircraft can now enter into service in the Member States of the European Union as well as in EASA-associated countries. ...more
With Unmanned Aircraft Vehicles (UAVs) sneaking steadily into commercial use across the globe for large and small businesses alike, Transport Canada is looking to ease the process by relaxing rules for business small UAV use. ...more
Airbus is accelerating its studies of an upgraded A380 and, after talks held last month with engine makers in Toulouse, appears to be closing on an initial agreement with Rolls-Royce. ...more
The Department of Defense (DOD) has assigned F-35 Regional Maintenance, Repair, Overhaul and Upgrade (MRO&U) capability for airframes and engines for the European Region. These initial MRO&U assignments will support near-term engine and airframe F-35 overseas operations and maintenance and will be reviewed and updated in approximately five years. ...more
F-35 development partners Italy and Turkey are the big winners for major maintenance, repair, overhaul and upgrade work in Europe for the single-engine, stealthy, multinational Lockheed Martin fighter. ...more
Qatar Airways has decided to not take delivery of its first Airbus A350-900 this weekend. The airline stated that the "ceremonial transfer of title has been postponed until further notice. With the imminent launch of the A350 program, both entities are committed to introducing the A350 very soon." ...more
Dassault is showcasing 5X cabin mock-up for the first time in the Middle East, which is home to one in five orders for the large-cabin, long-range business jet. ...more
Airbus has given the strongest hint yet that it could launch a re-engined version of its airliner-derived ACJ320 family as early as next year. ...more
Ahead of the publication of our annual World Air Forces directory, our Top 10 feature looks at some of the rarest aircraft still to be found in active military service around the globe. ...more
Speaking at the Credit Suisse Global Industrials Conference, Bruce Tanner, executive vice president and CFO at Lockheed Martin noted the progress put forth in the last year behind the F-35 Lightning II, Joint Strike Fighter program. ...more
In 2015, the largest professional civilian jet aerobatic team will undertake its first United States tour. This exceptional formation, consisting of seven L-39C Albatros planes flying at nearly 700 km/h (435 mph), has already performed in 36 countries across the world. ...more
Interesting post about flying and why it is worth to know how to do it. ...more
Airbus and the Toulouse-based Tarbes National Engineering School (ENIT, for it's name in French), a higher education and research institution, have signed a partnership agreement. ...more
The UK Royal Air Force has welcomed its first Airbus A400M Atlas tactical transport for training use, as the service makes preparations to stand up its first operational squadron with the type early next year. ...more
After reviewing contingency plans and security protocols after an October fire at the Chicago Air Route Traffic Control Center (ARTCC), the FAA is planning a series of changes that will lead to faster disaster recovery and more secure facilities and equipment. ...more
Unmanned aircraft are most often viewed as augmenting manned aircraft, perhaps eventually replacing some of them, but a more likely future lies in their becoming intimately essential to each other. Two new U.S. research notices give hints of such an outcome. ...more
The Aviation Register of Interstate Aviation Committee (IAC AR) issued a Supplemental Type Certificate for the Sukhoi Superjet 100 (SSJ100), permitting the usage of Vertical Navigation (VNAV) functionality at all stages of flight. The Sukhoi Superjet 100 represents the first Russian built aircraft to achieve VNAV certification at all stages of flight. ...more
Lockheed Martin has crafted a reduced-cost plan to "optionally man" its U-2, throwing a new possibility into the mix as Congress weighs whether to shift to an all-Northrop Grumman Global Hawk unmanned aircraft fleet for high-altitude reconnaissance. With an optionally manned U-2, advocates for the so-called Dragon Lady say the venerable aircraft finally can match the endurance offered by the RQ-4B Global Hawk. Convincing lawmakers and the Pentagon likely will be an uphill battle, though. ...more
Flying far is more important than flying fast, Japanese fighter technologists have found in studies aimed at defining their country's next combat aircraft. ...more
Eurocontrol and the European Defence Agency (EDA) have signed a joint work agreement in the domain of the Single European Sky ATM Research (SESAR) program for the coming two years. ...more
EC135 T2+ helicopter the "ideal training platform" for new Army, Navy pilots. ...more
Russian Helicopters has launched the final stage of certification testing for its Mi-38 multirole helicopter. ...more
Lima, November 13, 2014 – Peru's Ministry of the Interior has now added the final EC145 helicopter to the modernized fleet of the National Police of Peru (PNP). ...more
PARIS - Europe's Philae robotic probe touched down on the dusty surface of Comet 67P/Churyumov–Gerasimenko on Nov. 12, marking a historic achievement in planetary exploration. ...more
The Bell Helicopter 505 Jet Ranger X completed its first flight with the Arrius 2R engine. Turbomeca, the manufacturer of the Arrius 2R engine, indicates FAA, EASA and Transport Canada engine type certifications for the Arrius 2R are on track for the end of 2015. ...more
The most recent Missile Defense Agency (MDA) trial last month for the Aegis ballistic missile defense system is moving the agency closer to proving that airborne infrared sensors can be used to cue a ballistic target intercept. ...more
The FAA has issued a final rule that broadens the coverage of its icing certification standards. The updated standards require U.S. manufacturers to show that transport airplanes can operate safely in freezing drizzle or freezing rain — conditions that constitute the icing environment known as Supercooled Large Drops (SLD). The standard also includes ice crystal weather conditions. ...more
Trimble's latest enhancements to its Trimble Access Aerial Imaging 2.0 application promise to offer an enhanced user interface, more thorough flight planning and flexibility in-flight control for Unmanned Aircraft Systems (UAS) platforms. ...more
The ICAO Air Services Negotiation Event (ICAN2014) will provide States with a central meeting place to conduct multiple bilateral (regional or plurilateral) air services negotiations or consultations and offer participants excellent networking opportunities as well as a forum to exchange experiences and discuss topical issues. ...more
Cirrus Owners and Pilots Association has made AeroExpo UK 2015 their chosen 13th European Migration destination during the 27th - 31st May. ...more
History is an important part of most airports. You often find plaques telling of notable events at the airport. If Souther Field/Jimmy Carter Regional Airport (ACJ) in Americus, Georgia, was to create such a plaque, it would need a surface the size of the Green Monster, the high left field wall at Fenway Park in Boston. ...more
Belgian operator VLM Airlines and Moscow-based aircraft lessor Ilyushin Finance Co. (IFC) have today signed a Letter of Intent that will see the airline become the first European operator of the long-range Sukhoi Superjet 100 LR (SSJ100 LR) regional aircraft. ...more
The U.S. Navy has declared Initial Operational Capability (IOC) for the E-2D Advanced Hawkeye aircraft. This newest variant of the E-2 Hawkeye Airborne Early Warning Command and Control (AEW&C) platform was designed, developed and manufactured by Northrop Grumman. ...more
The Pentagon's latest handshake with F-35 prime contractor Lockheed Martin for the next batch of 43 of the single-engine, stealthy fighters comes as the program's Joint Program Office (JPO) continues to slowly implement a fix to engines in its test fleet. ...more
Britain's Nigel Lamb won the 2014 Red Bull Air Race World Championship on Sunday, October 26th with a dramatic victory under pressure at the season finale in Spielberg, Austria. ...more
The new Symmetry Flight Deck system on the recently launched Gulfstream G500 and G600 long-range business jets integrates avionics content from some of the top manufacturers in the industry. ...more
The Citation Latitude, Cessna's newest midsize business jet, made its public debut this week at the annual National Business Aviation Association (NBAA) Convention & Exhibition. ...more
Honda Aircraft made several announcements at NBAA 2014, regarding flight testing, the HondaJet demonstration tour and company expansion. ...more
Dassault's brand new Falcon 5X has entered the ground testing phase following power up of the first aircraft at the end of August. First flight is expected by the second quarter of next year and certification by the end of 2016. ...more
As Wi-Fi networks increasingly become standard on modern aircraft, aviation maintenance personnel are finding their workloads becoming increasingly more complex. ...more
Airbus Helicopters is working hand-in-hand with operators to efficiently carry out the retrofit on the global fleet. ...more
Airbus will reduce its production of A330s from 10 to nine per month from the fourth quarter of 2015 as it transitions to the re-engined A330neo. ...more
Garmin and Jeppesen have introduced the RNP AR NavData Service, a tool for pilots using Required Navigation Performance – Authorization Required (RNP AR) procedures. The new service automates data validation processes that are required for business, general and commercial aviation RNP AR flights. ...more
During a recent flight demonstration conducted with the University of Iowa College of Engineering Operator Performance Laboratory (OPL), Rockwell Collins demonstrated the ability of its flagship Pro Line Fusion flight deck to be used as a ground control station. ...more
Latvian airline airBaltic has completed a research and development project that will enable new flight procedures that allow aircraft to fly shorter distances and reduce fuel consumption and emissions at Riga Airport. more...
A new era in Chinese air ambulance operations began today with Airbus Helicopters' delivery of a twin-engine EC135 as the first rotorcraft outfitted for dedicated helicopter emergency medical services (HEMS) missions in the country. ...more
Marshall Aerospace and Defense Group has entered into a conditional letter of agreement with Bombardier to develop a Future Air Navigation System (FANS) 1/A+ avionics upgrade for Bombardier's Challenger 604 aircraft. ...more
With European Aviation Safety Agency (EASA) certification now in place for the A350-900, Airbus is shifting gears to prepare for first delivery of the aircraft and a steep production ramp-up. ...more
Are you looking for a job in the aviation industry? Mechanic? Engineer? Pilot? Buyer? Coordinator? Dispatcher? Other? ... more
Following a fire set by an FAA contractor in the basement of the Chicago Air Route Traffic Control Center (ZAU) in Aurora, Ill., the FAA is continuing to monitor air traffic in the airports surrounding the Chicago area. ...more
Boeing has delivered China's first new-generation Boeing jetliner, the 747-8, to Air China. ...more
The solar-powered Zephyr Unmanned Aircraft System (UAS) has completed a flight at more than 61,000 feet above the United Arab Emirates (UAE). ...more
The European Aviation Safety Agency (EASA) issued on 30 September 2014 the type certificate of the Airbus A350-900. Airbus demonstrated that the aircraft complies with the regulatory safety and environment requirements defined by EASA for the European Union. ...more
The Republic of Korea finalized its formal selection of the Pratt & Whitney-powered F-35A Lightning II aircraft for its F-X fighter acquisition program, announcing its intent to sign the Letter of Offer and Acceptance (LOA) between the United States and Korean governments for 40 F-35A Conventional Take Off and Landing (CTOL) variant fighter jets. ...more
EASA allows European airlines to permit use of mobile phones following the aircraft landing. ...more
The Airbus A320neo has completed its first flight, landing back at Toulouse's Blagnac airport at 2:22 p.m. local time Thursday after a noon departure. ...more
All aircraft of the Dutch airline KLM and KLM Cityhopper will soon fly using digital flight documents via the AvioBook 'e-briefing' app. ...more
ITEC, a joint venture between Honeywell Aerospace and Aerospace Industrial Development Corporation (AIDC), will supply propulsion engines for Poland's eight new Alenia Aermacchi M-346 Master advanced jet trainers. ...more
Sofradir's 1k2 Next Generation Panchromatic detector (NGP), a new 1024x1024 visible to SWIR Focal Plane Assembly, brings added performance to observation instruments used in space and is easy to integrate, thus shortening supplier delivery times. ...more
There's a long road ahead, but nothing will get in their way. That was the sentiment at the NextGen Institute's public forum yesterday in which speakers from the FAA and private sectors discussed the goals and shortcomings of NextGen implementation. ...more
Mission Aviation Fellowship (MAF) is supporting efforts to combat a deadly Ebola outbreak in the Democratic Republic of the Congo. ...more
Belite Aircraft founder James Wiebe flew the new Sealite Amphibious ultralight off the water for the first time on Wednesday. ...more
Pratt and Whitney and the U.S. Air Force have completed qualification for F135 engine testing at Tinker Air Force Base in Okla. The testing will take place at the base's Oklahoma City Air Logistics Complex (OC-ALC), which is also qualified to perform maintenance and repair work on the F135 fan modules. ...more
The Beluga cargo aircraft — affectionately named after the white whale because of its shape — is celebrating 20 years of transporting Airbus component parts between Airbus' European manufacturing sites. ...more
Boeing says it has no plans to build a final assembly line in China, and will instead grow its presence by deepening its partnerships across the country. ...more
The International Civil Aviation Organization (ICAO) has selected the Gulf Centre for Aviation Studies (GCAS) to be the Regional Training Centre of Excellence (RTCE) for the Middle East region. ...more
After an engine-related incident during stationary ground maintenance testing in May, Bombardier confirmed that the CSeries aircraft resumed flight testing with flight test vehicle two (FTV2), taking flight at Bombardier's facility in Mirabel, Québec. ...more
Ryanair Deal Launches High-Density Boeing 737MAX

Boeing is formally launching a high-density variant of the 737-8 aircraft, part of its 737 MAX family, following a firm order for 100 aircraft worth over $11 billion from European low-cost carrier (LCC) Ryanair.


US to Propose New Aircraft Emissions Rules

The U.S. Environmental Protection Agency (EPA) has released a timeline for proposing and finalizing new regulations for aircraft emissions. According to an information paper submitted to the International Civil Aviation Organization (ICAO), the EPA will study the health dangers of aircraft emissions and release its findings in April 2015. ...more
Bombardier's Challenger 350 has been granted full type certification from the European Aviation Safety Agency (EASA). This means EASA-registered customers will soon begin taking delivery of the new aircraft. ...more
Air traffic controllers at Gatwick airport handled a total of 906 movements on 29 August, breaking their own world record for air traffic management in a single day from a single runway. ...more
Virgin Atlantic will withdraw routes to Cape Town, Mumbai, Tokyo and Vancouver as part of a strengthened emphasis on transatlantic flights – but hints that it could resume the axed services if a new runway is built at London Heathrow airport. ...more
The International Civil Aviation Organization (ICAO) announced it has officially concluded an agreement to serve as an institutional and aeronautical partner for the Solar Impulse 2015 around-the-world flight, which aims to fly a solar-powered prototype aircraft around the globe. ... more
If Airbus chief salesman John Leahy had to pick one airport to demonstrate the need for a large aircraft such as the A380, he would certainly pick London Heathrow: dense, high-yield traffic flows and severe capacity limitations. ...more
The European Aviation Safety Agency (EASA) revealed on 1 September 2014 a new organisation which aims at preparing the Agency for the challenges of the coming years. ...more
Google's facility dedicated to advancing technology, finally announced Project Wing, a project set on developing Unmanned Aircraft Systems (UAS) that can quickly transport and deliver goods across a city or into rural areas. ...more
LACHUTE, Quebec, Canada — Just a year and a half after the first flight of the prototype SAM aircraft, President Thierry Zibi has put the company up for sale. ...more
A Boeing F-15C assigned to the 104th Fighter Wing of the Massachusetts Air National Guard crashed in the Virginia mountains around 09:00 Eastern Time on 27 August. ...more
Qatar Airways, the launch customer of the Airbus A350 Xtra Wide Body (XWB) aircraft is set to receive its first delivery before the end of this year. The Middle East carrier has now unveiled the livery of its newest aircraft, from the Airbus factory lines in Toulouse, France....more
This Seminar provides an opportunity to gain knowledge and share information on the latest and most innovative technologies for use in the reduction of aviation emissions. The event will address topics such as next generation aircraft, research programmes, airplane recycling, green operations, eco-airports, clean energy for aviation, and financing. ...more
American Airlines chief operating officer Robert Isom anticipates receiving approval for a single operating certificate in the second quarter of 2015, as the carrier's integration with US Airways continues to move forward....more
BOC Aviation placed an order valued at $8.8 billion for 50 Boeing 737 MAX 8s, 30 Next-Generation 737-800s and two 777-300ERs (Extended Range)....more
Rolls-Royce's future turbofan strategy will leverage European, national and company research. Earlier this year Rolls-Royce took the unusual step of publicly laying out its strategic vision for developing a new series of large turbofans for the next decade and beyond. Now the company is beginning to detail the first steps it will take to turn this vision into reality. ...more
Delegates to the historic ICAO High-level Conference on Aviation Security (HLCAS) held in September 2012 agreed on the need to be forward-looking in addressing threats to civil aviation, rather than rely solely on reactive measures. Concluding that innovative processes and technologies were required to craft a security regime that is effective, efficient, operationally viable and economically sustainable, they called on ICAO to convene its first-ever Symposium on Innovation in Aviation Security (SIAS) in 2014. The event, which will feature an industry exhibition as well as several thematic panel sessions, is scheduled for 21-23 October at ICAO Headquarters in Montréal, Canada....more
VYCON, designer and manufacturer of environmentally friendly energy storage flywheel systems, announced the purchase of three of VYCON's kinetic energy storage flywheel systems by the Benito Juárez International Airport (AICM) in Mexico City. ...more
ABOARD THE USS THEODORE ROOSEVELT — The U.S. Navy executed its first-ever takeoff and landing of unmanned and manned aircraft in rapid succession on an aircraft carrier deck Aug. 17, putting the service one step closer to its goal of a mixed fleet of manned and unmanned aircraft in the coming years. ...more
Icelandic authorities have raised aviation alert levels to orange after seismic activity around one of the country's volcanos was detected. ...more
Autonomous technology, in the air and on the ground, is certain to be required if aviation is to break out of its niche and become a ubiquitous mode of transport. Whether it is easy-to-fly personal air vehicles, optionally piloted air taxis or single-pilot commuter transports, aviation will have to go beyond automation to enable wider public use of aircraft. ...more
Aircraft: Socata TB 10. Injuries: 2 Fatal, 1 Serious. Location: Shirley, N.Y. Aircraft damage: Destroyed. ...more
The International Civil Aviation Organization (ICAO), in partnership with the Civil Aviation Administration of China (CAAC) and the People's Government of the Henan Province, will convene an air cargo development forum at the Zhengzhou International Convention and Exhibition Centre, Zhengzhou, China, from 2 to 5 September 2014. The event will be jointly hosted by the International Cooperation and Service Center, CAAC and the People's Government of Zhengzhou. ...more
Oneworld carrier Finnair is to launch a new product offering additional legroom and amenities, dubbed "economy comfort", on its long-haul flights by the end of this year. ...more
A helicopter tour of Manhattan is a must-do activity for many visitors to New York City. But residents who live along the Hudson River, which runs between New Jersey and the most scenic parts of the city, are renewing their decades-long attempt to bring a halt to such tours. ...more
On approach to Santos Air Base, State of São Paulo, crew decided to abandon the approach and started a go around procedure when he lost control of the aircraft that crashed in flames in the center of the city, some 4 km short of runway. ...more
The Canadian Union of Public Employees (CUPE) is challenging a Transport Canada decision to exempt Air Canada from maintaining the current ratio of one flight attendant for every 40 passenger seats on commercial flights. ...more
Malaysia Airlines (MAS)'s Chief Commercial Officer Hugh Dunleavy underlined the need for the industry to improve information sharing about where it is safe to fly and where it isn't. ...more
The Armed Forces of Malta has received their first AgustaWestland AW139 to be used primarily in maritime border control missions. A second helicopter is scheduled for delivery in December 2014. ...more
For about a decade after the low-cost airline revolution began to sweep across Southeast Asia, the Civil Aviation Administration of China (CAAC) was not interested. Then, a year ago, the industry's overseer quite suddenly began to push the idea. ...more
A Sepahan Airlines Hesa IrAn-140-100, registration EP-GPA performing flight SPN-5915 from Tehran Mehrabad to Tabas (Iran) with 42 passengers and 6 crew, departed Tehran Mehrabad Airport's runway 29L when the aircraft lost height and crashed into a residential area near the Liberty/Azadi Stadium about 1.6km/0.85nm northwest of the runway end at about 09:18L (04:48Z), the tail of the aircraft, the only still recognizable part, came to rest at approximate position N35.7074 E51.2850. 11 occuptants were taken to hospitals with serious injuries, 37 occupants died in the crash. There were no injuries or casualties on the ground. ... more
Korea Aerospace Industries (KAI) and AgustaWestland would jointly develop a derivative of the AW169 if the Italian-British manufacturer is chosen for South Korea's LCH-LAH helicopter program. ...more
Cessna announced at EAA AirVenture Oshkosh that it has received an order for four 172S Skyhawks from the University of Dubuque in Iowa. Delivery of the aircraft in September will complete the transition to an all Garmin G1000-equipped training fleet for the school's aviation degree programs. ...more
South African Airways (SAA) and SkyNRG announced today they are collaborating to make sustainable aviation biofuel from a new type of tobacco plant. This initiative broadens cooperation between Boeing and SAA to develop renewable jet fuel in ways that support South Africa's goals for public health as well as economic and rural development. ...more

Contrary to what most public relations firms recommend, Airbus has chosen to downplay the debut of the A320neo (New Engine Option). No official ceremony was staged, unlike the presentation—with Hollywood-style hoopla—for the debut of the A320 in 1987. Of course the A320neo is not an all-new commercial transport, but it does mark the first time that the European manufacturer has secured more than 3,000 firm orders for an aircraft—before it even takes to the air. ...more

OSHKOSH — The first production HondaJet made its public debut this week at EAA AirVenture Oshkosh. ...more
United Airlines has converted seven of its eight remaining Boeing 787-8 orders to the larger 787-10, as it prepares to take its first 787-9. ...more
RIDLEY TOWNSHIP, Pa. – Boeing delivered the first multiyear II configured CH-47F Chinook helicopter to the U.S. Army one month ahead of schedule. ... more
Terrafugia, builders of the Transition flying car, has cut metal on the first hardware for its next project, the futuristic vertical takeoff and landing TF-X. The roadable aircraft will feature battery-powered, swiveling pods with retractable rotor blades to transition from vertical to horizontal flight, and a 600 hp motor in the rear driving a ducted propeller. ... more
OSHKOSH — The FAA has sent a proposal to reform the third-class medical certification process to the Department of Transportation for review, FAA Administrator Michael Huerta said Thursday at AirVenture. ... more
Boeing Plaza is the new name of the main static aircraft display at EAA AirVenture, following a sizable financial investment and multi-year commitment the Chicago-based jetliner company is making in the event. The recent launch of its ab initio airline pilot training system is a key reason. ... more
LOS ANGELES — Boeing has confirmed that the third variant of the 787, the double-stretch 787-10, will be assembled exclusively in its Charleston, South Carolina facility, making it the first of any Boeing commercial model to be completed away from the U.S. west coast. ...more
Kendall "Doc" Wagner appeared to be doing a pre-flight task of sorts under the belly of Lady Alice, his P-51D for the past seven years, when I walked toward the two-seat fighter aircraft for a morning three-ship formation flight that I'd been invited to observe. ...more

Mooney International handed over the keys of its first newly built aircraft on July 29, marking the return of the high-performance single-piston Mooney aircraft lines to the market after a five-year hiatus. The first buyer, the highest bidder of a Mooney auction at $646,000, is New York-based businessman Ricardo Pasco. ... more
GDYNIA, Poland – Austria's Hannes Arch widened his lead at the top of the Red Bull Air Race World Championship to 13 points with a victory in front of 130,000 spectators in Gdynia on Sunday, picking up his third straight win in Europe. Britain's Nigel Lamb was second, while Matt Hall of Australia got his second straight third place. ... more
July 28, 2014 - Work is underway on the One Week Wonder, a Zenith CH 750 Cruzer that will transform from a crate full of parts into a complete airplane in less than one week's time. ... more
A new sport plane that is designed to operate from runways, water, and snow and ice was introduced Sunday afternoon on the day before the AirVenture at Oshkosh officially opened. ... more
The crew of a German airline had ordered soap for the lavatories to be replenished at their next stop. After arrival the soap did not show up however. ... more
All Nippon Airwayswill become the first carrier in the world to operate the Boeing 787-9 aircraft. After taking delivery at Boeing's Everett factory on 27 July, the aircraft will be flown to Tokyo, arriving in 29 July, says ANA in a statement. ... more
A Swiftair McDonnell Douglas MD-83 on behalf of Air Algerie, registration EC-LTV performing flight AH-5017 from Ouagadougou (Burkina Faso) to Algiers (Algeria) with 110 passengers and 6 crew, was enroute over Mali near Gao about 50 minutes into the flight at around 02:55L (01:55Z), when contact with the aircraft was lost. ... more

The world's largest aircraft manufacturers combined for a total of more than $130 billion in sales of commercial passengers jets at the 2014 Farnborough Airshow. ... more
The Farnborough debut of Boeing's latest 787 derivative has enabled details of the aircraft's aerodynamic advances to be examined close up. ... more
The Federal Aviation Administration warned U.S. air carriers not to fly in a region about 200 miles away from where Malaysian crash occurred in Ukraine. ... more
A Malaysia Airlines jet carrying 295 people has crashed in east Ukraine on a flight from Amsterdam to Kuala Lumpur. There are no signs of survivors at the scene of the crash near the village of Grabovo, in rebel-held territory close to the border with Russia. ... more
Elbit Systems and Nicarnica Aviation Sign MOU for the Integration of Volcanic Ash Detection Capabilities on Elbit's Clear Vision™ EVS

Elbit Systems and Nicarnica Aviation announced today that they signed a Memorandum of Understanding (MOU) to cooperate on an exclusive basis for the implementation on commercial aircraft of Nicarnica's volcanic ash detection technology into Elbit Systems' Enhanced Vision System (EVS) cameras. The combined solution will enable pilots to avoid flying into contaminated areas while still maintaining safe operation in areas influenced by volcanic eruptions. ... more

Seven Sukhoi Superjet 100 Delivery Agreement Signed between SCAC and BEK AIR
On July 14 Sukhoi Civil Aircraft Company and BEK AIR airline based in Kazakhstan have signed during Farnborough International Airshow 2014 an agreement on delivery of seven Sukhoi Superjet 100 aircraft. ... more

Durable market presence and innovation are Airbus Helicopters' focus at Farnborough 2014
Marignane, France, 11 July 2014 – Airbus Helicopters' Farnborough International Airshow participation will emphasize the company's long-standing commitment to the U.K.'s civil and military markets through its diversified helicopter product line, along with the company's innovation for further improvements in rotorcraft performance, efficiency and reliability. ... more
24-hour fuel service now available at Alaska's McGrath Airport
Crowley's Alaska fuel sales and distribution group has unveiled McGrath Airport's first aviation fuel card lock system, offering pilots the convenience of 24-hour refueling services at one of the region's busiest airfields. ... more
Airbus is looking to begin a flight-testing campaign with its re-engined A320neo passenger jet in September. The French airframe manufacturer finished assembling the first member of the A320neo family, MSN61, which will be the first aircraft to join its development fleet. ... more
Half a century of airborne feats

Breitling celebrates the 50th anniversary of the Patrouille Suisse by dedicating to this exceptional team an exclusive version of the Chronomat, complete with personalized dial and engraved caseback. Issued in a 1,000- piece limited edition, this authentic aviation chronograph once again reflects the special ties between the Swiss brand and the world's elite pilots.
In 2014, Switzerland and the aviation world are celebrating a double milestone: the 100th anniversary of the Swiss Air Force and the 50th anniversary of the Patrouille Suisse. ... more
A350 XWB to take centre stage at Singapore Airshow
Airbus will present the all-new A350 XWB at the Singapore Airshow next month, marking the first full display of the aircraft at an international air show. The flight test aircraft participating in Singapore will be MSN 003, which will be on static display 11th – 12th February and will also take part in the flying display on both days... more
ATR's customer support activities yield outstanding results in 2013
ATR Customer Support activities achieved outstanding results in 2013. The European regional aircraft manufacturer has signed this year 15 Global Maintenance Agreements (GMA) covering a total fleet of more than 160 additional aircraft. The cumulated value of all these contracts is over US$ 330 million. This escalating success is due to ATR's determination to build its own unique support solution, which efficiency gains today strong confidence of ATR operators all over the world. It is the result of a working investment policy oriented to develop activities related to the maintenance on- and off-aircraft...more
A350 XWB in Bolivia for high altitude testing
The A350 XWB development aircraft, MSN3, is in Bolivia where it will perform a series of tests at the high altitude airfields of Cochabamba and La Paz. Cochabamba is around 8,300 feet above sea level, and La Paz is one of the world's highest airports at 13,300 feet... more
Leasing firm Avation PLC firms order for 5 additional ATR 72-600s
The commercial passenger aircraft leasing company Avation PLC (LSE: AVAP) and the European regional turboprop aircraft manufacturer ATR are pleased to announce the agreement for the purchase of five additional ATR 72-600s... more
Boeing Joins First KC-46A Airframe
The fuselage and wings for the first 767-2C to be adapted into a KC-46A for the U.S. Air Force's aerial refueling tanker program have been joined at Boeing's Everett, Wash., facility.
Final body join of the first aircraft, dubbed VH001, marks a significant milestone in the $4.4 billion KC-46 engineering and manufacturing development (EMD) program, which the Air Force awarded the company in February 2011.... more
Continuing adventure with aviation ...
82 years old Alexander Kujawski is still an active instructor and glider pilot, as well as airplane pilot . He has trained dozens of young glider pilots. He made nearly 8,000 glider and about 2,000 plane flights. He was awarded the Silver Cross of Merit and won the badge and the title of Meritorious Sports Aviation and others. He also has a Gold Badge with Three Diamonds... more
Boeing Launches 777X with Record-Breaking Orders
Boeing's [NYSE:BA] participation at the 2013 Dubai Airshow was marked by the launch of the innovative 777X – the world's largest and most-efficient twin-engine jetliner – and the announcement of historic orders and new strategic agreements signed with key partners in the Middle East and around the world... more
Top 100 Airplanes: Platinum Edition
Flying Magazine introduces Top 100 Airplanes: Platinum Edition, which celebrates latest Flying book, entitled Flight: 100 Greatest Aircraft. In this Album there's something for every aviation aficionado—from brazen stunt planes to far-from-pedestrian commercial jets, from military marvels to spacecraft that reached dazzling new heights. With its spectacular full-color photographs, fascinating and informative text, and detailed specifications section that will delight die-hard data fans, Flight is the essential book for pilots and plane-lovers everywhere.
AERO Friedrichshafen Combines All the Important Topics of General Aviation

Friedrichshafen, Germany – Ready to take off: For the 22nd time, the most important trade fair for general aviation will be taking place in Friedrichshafen on Lake Constance from April 9 to 12, 2014. In 11 exhibition halls and on the static display between the trade fair and the airport, some 600 exhibitors from 30 countries will be presenting innovations in the industry. From ultralight airplanes and gyrocopters to twin-engine propeller aircraft, from helicopters to business jets: AERO Friedrichshafen shows the fascination of flying in all its facets. Aircraft engines, propellers, avionics, maintenance, services, and pilot accessories complete the range of offerings of AERO 2014... more
Star Alliance – The way the Earth connects
Star Alliance is a global airline network which was established by five airlines, Air Canada, Lufthansa, Scandinavian Airlines, THAI and United on May 14, 1997.
It has grown to become the first truly global airline alliance to offer worldwide reach, recognition and seamless service to the international traveller. Its acceptance by the market has been recognised by numerous awards, including the Air Transport World Market Leadership Award, Best Airline Alliance by both Business Traveller Magazine and Skytrax. The member airlines are: Adria Airways, Aegean Airlines, Air Canada, Air China, Air New Zealand, ANA, Asiana Airlines, Austrian, Avianca, Brussels Airlines, Copa Airlines, Croatia Airlines, EGYPTAIR, Ethiopian Airlines, EVA Air, LOT Polish Airlines, Lufthansa, Scandinavian Airlines, Shenzhen Airlines, Singapore Airlines, South African Airways, SWISS, TAM Airlines, TAP Portugal, Turkish Airlines, THAI, United and US Airways.
Together more than 460,000 employees serve 727 million passengers a year. With a modern combined fleet of some 4,701 aircraft, Star Alliance offers 21,900 daily flights to 1,328 airports in 195 countries.
The recovery of the global aviation industry remains steady despite slower pace
Despite the fact that earlier this year IATA has forecasted the airlines to gain $12.7 billion in profit, it has revised its estimates by almost 8% down to $11.7 billion. According to the updated analysis, the global traffic is forecasted to grow at a 5% a year, down from 5.3% forecasted earlier. The changes made reflect the change in oil demand due to the recent Syrian crisis and the fact, that the industry is recovering at a slower pace than initially expected. Nevertheless, despite some changes in the growth of some of the key markets, the overall performance in 2013 is considerably better than in 2012 and airline performance continues to improve.... more

Over 29,000 new aircraft required in the next 20 years
As aviation becomes increasingly accessible in all parts of the world, future Journeys will increasingly be made by air particularly to and from emerging markets. According to Airbus' latest Global Market Forecast (GMF) in the next 20 years (2013-2032), air traffic will grow at 4.7 per cent annually requiring over 29,220 new passenger and freighter aircraft valued at nearly US$4.4 trillion. Some 28,350 of these are passenger aircraft valued at US$4.1 trillion. Of these, some 10,400 will replace existing aircraft with more efficient ones. With today's fleet of 17,740 aircraft, it means that by 2032, the worldwide fleet will double to nearly 36,560 aircraft...more
Embraer Delivers 1,000th E-Jet
Embraer delivered the 1,000th E-Jet production aircraft during a ceremony held at the Company's headquarters in São José dos Campos. The E175 was handed over to Republic Airlines, a subsidiary of Republic Airways Holdings Inc., which will operate the aircraft on behalf of American Eagle. The delivery is part of Republic's order for 47 E175s that was announced at the beginning of 2013. The contract also includes options to buy another 47 aircraft.... more
Small Planet Airlines is preparing for 2014: aircraft fleet to be complemented by three Airbus A320s

After a successful summer holiday season of 2013 Small Planet Airlines is returning two of its oldest aircraft to the owners. Instead of these aircraft, the company has signed agreements regarding 3 newer Airbus A320-220 aircraft. In total, the fleet of the airline will be comprised of 10 aircraft next year, one of which will be a stand-by unit.
At the end of August Small Planet Airlines signed agreements with Aircastle and CIT Aerospace to lease 3 Airbus A320-220 aircraft. From next spring one of them will be based in Lithuania, another one in Poland and the third one will be a backup aircraft.
"We are already preparing for the next season. We signed the agreements regarding additional three A320s with deliveries in February, March and April 2014. This will ensure that the start of the next season will be smooth", - CEO of Small Planet Airlines Vytautas Kaikaris said.
According to Mr. Kaikaris, the backup aircraft will allow to protect the passengers in case of irregularities much more quickly than before thus reducing potential long delays significantly.
"When our fleet was comprised of 3-4 aircraft, a backup unit was a luxury which we couldn't afford. However, as the company is expanding, a backup aircraft will not only increase the level of our services, but also is a financially sound decision. The fact that we have leased a backup aircraft gives us a considerable competitive advantage over other smaller airlines", - commented the CEO of Small Planet Airlines.
The lease of new Airbus A320 aircraft is in line with fleet renewal strategy of Small Planet Airlines. In three years the company reduced the number of Boeing 737-300 aircraft from 4 to 1, whereas the number of Airbus A320s grew from 2 to 9 as the airline rapidly expanded in the UK, France and Poland.
Due to the advanced technology, comfort of passengers and flight economy, Airbus A320 is the most popular narrow-body aircraft produced by Airbus. It has up to 180 seats and can travel 5700 km distance by reaching the maximum speed of 900 km/h.
Breitling Jet Team completes twelve-month Asian Tour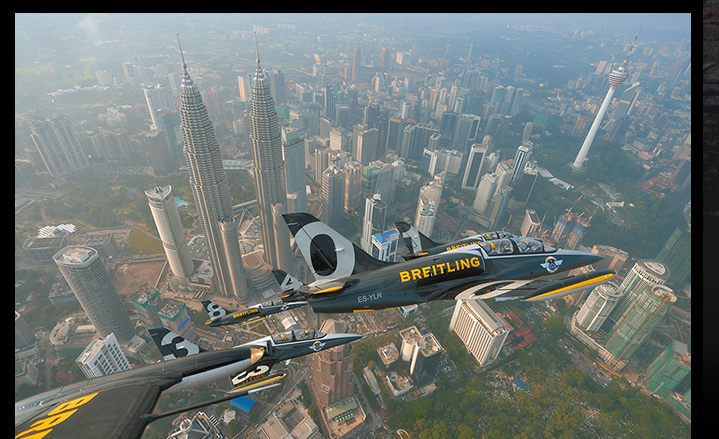 The Breitling Jet Team is the first civilian Jet display team to complete a tour encompassing Asia, Russia and Europe.
Navigating 40,000 kilometers the equivalent distance of the world's circumference the Breitling Jet Team, consisting of seven L-39C Albatros jets has set a world first taking their unique and polished performance to new audiences in China, South East Asia, South Korea, Japan, Moscow, and Eastern Europe.
The seven highly experienced pilots negotiated challenging transits over the mountains of Mongolia, jungles of Borneo, South China Seas and the Gobi Desert to name but a few. A full time team of seven technicians worked around the clock and in temperatures from -18 to +45 degrees to keep the aircraft in top-flight condition and allow the pilots to consistently pull high G and high-speed maneuvers. The team respected for their precision and reliability performed all expected 28 displays and delighted crowds of over 5.5 million.
As well as experiencing new cultures the team met new friends on the ground and in the air such as the prestigious national aerobatic teams; Chinese August 1st team, South Korea Black Eagles, Indonesian Jupiter team, Malaysian Smokey Bandits, Thai Blue phoenix, and the Russian Knights.
From the aerial perspective the team enjoyed flying low and in close formation over some of the world's most iconic and notorious landmarks including: Petronas Towers, Borobudur Temple in Indonesia, Mount Fuji, the Great Wall of China and the historic city of Prague.
As a special welcome back into European skies the team was greeted by two Swiss Air Force F/A-18 supersonic fighter jets and escorted across Swiss air space. After basing their operations in foreign countries for the past 12 months the pilots are enjoying having their aircraft back in Dijon.
Sukhoi, Ilyushin Finance confirm order for 20 Superjets
Sukhoi and Ilyushin Finance have firmed up an order for 20 Superjet 100 aircraft that was first announced at the Paris air show in June.
The Ilyushin Finance order involves two contracts, Sukhoi said in a statement. The first contract with the lessor covers five Superjet 100LR aircraft with 103 seats and deliveries are set to commence at the end of 2015.
The second contract covers 15 Superjet 100s in its basic configuration, with these aircraft to be deployed with carriers in Southeast Asia and the Middle East.
"[The] Sukhoi Superjet 100 LR version differs from the Basic in several respects: it can reach 4,578km [2,470nm] and has an increased take-off weight - up to 49.45 tons compensated by the strengthened wing," says Sukhoi. "The SSJ100 LR is equipped with a PowerJet SaM146 engine with a 5% increased thrust compared to SSJ100 Basic version."
The Russian government will provide financing assistance for the deliveries.
"This support is provided by the government to banks extending credits to customers buying Russian products." more

Polish Aviation Day - the card from the historical Polish aviation calendar

Since 1993 the date 28 of August is known in Poland as a National Aviation Day , common holiday for civil aviation, military and aerospace industry and it was established to commemorate the victory of Captain Franciszka Żwirki and Engineer Stanisława Wigury in Challenge Touring Aircraft 1932 Competition (Challenge International des Avions de Tourisme) in Berlin ... more

Travel Service Finalize Order for Three 737 MAXs
Travel Service Boeing 737 Boeing [NYSE: BA] and Travel Service have finalized an order for three 737 MAX 8s, valued at $301.5 million at list prices. The Czech Republic-based carrier originally announced a commitment to purchase the 737 MAX in June during the 2013 Paris Air Show. Today's announcement brings the total number of orders to date for the 737 MAX to 1,498 airplanes. more
THE SHOW with something for everyone: that was the verdict after crowds at the Royal International Air Tattoo at RAF Fairford in the Cotswolds enjoyed a feast of flying and static displays, plus a range of new and exciting entertainment on the ground. more
Stronger Global air traffic results in 2013 H1 largely driven by the development in the Middle East
Throughout the first five months of 2013 the global air passenger traffic was further showing signs of a healthy recovery, climbing up by 4.5% in comparison to the same period in 2012. While in terms of market growth the Asian-Pacific region along with Europe and North America still remain on the outskirts, the growth in the international air passenger demand had been mostly supported by the emerging markets with the Middle East at the lead.... more .
Marek Szufa - "Blue sky Mark "
This year, on June 18 falls the second anniversary of Marek Szufa death - an outstanding polish pilot who during the air show in Plock dropped his machine to the Wisła river....
. more
Tadeusz Wrona - master landing with the release of Polish pilot
It was 1st November 2011, when Boeing 767 flying from Newark in New Jersey was approaching to the Okecie airport in Warsaw, and over 220 passengers, eleven-man crew and crowds of people in front of TVs caught their breath. Weighed almost 130 tones machine was coming down without slided out landing gear... more